How to start MLM Business – Tips & Tricks for Guaranteed Success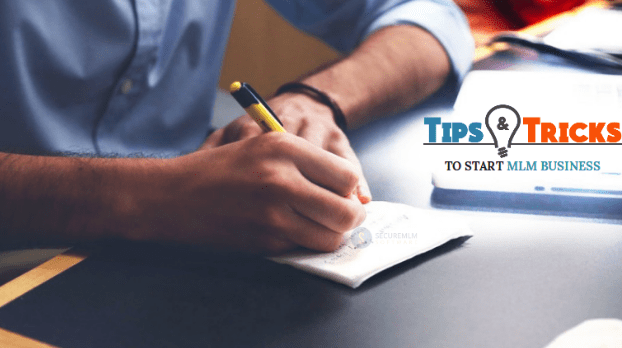 In this blog, we shall discuss the tips to start MLM business and how to be successful at it.
Network marketing and Multi-Level Marketing (MLM) are new age career paths that has seen a great growth potential due to the influence of internet into our daily lives. It  is a very unique business model where people like you and me become the independent distributors for a company and markets and sells its products or services. They will earn a commission for the products that they sell along with the bonuses for achievements. The company is benefited since it does not have to spend a fortune on the advertisements and marketing. The word of mouth and marketing efforts of the distributors garner sales for them.
Now that we know all about network marketing and MLM, let us discuss on how you can start MLM business from the scratch.
Follow the checklist and guidelines given below and you are good to go!
Find the perfect company to start your MLM Career.
Finding the right company would  probably be the most important task for a fruitful MLM career. This can be the most difficult one as well. If you got this step right, you are halfway  done to your success story.
Do a research on the top MLM companies
You can do some snooping around on the internet and take a look at the companies around your area. You have to look at things like how long the company has been in business, the amount of sales they do in a year, what is the reputation of the company among the general public and if it has been in some legal cases or in the middle of a scam in the recent times. Also, the company should be at par with you on a personal note since you have to deal with them during the course of your career all the time. To check on scams, you can read the online reviews, blogs, find if there has been a newspaper report or simply ask around your social circles. Get to know more on  how to choose right network marketing company.
Investigate about the company leadership
Now, after you have zeroed in on the company, have a look at the top management and the leadership of the company. The leadership and the chief of the company should be a reputable and well respected person in the community and should be a part of anything scandalous or shady. They should also be free of any legal proceedings against them.
Study the products that the company sells.
Do a thorough study on the kinds of products that the company sells. This is important since you are the one who has to ultimately sell the products and experts in MLM says that you cannot sell a product unless you believe in it and is quite passionate about selling it. It always wise to choose products that are reputable and you can milk the popularity of the brand.
Certain companies market dangerous products and you will be in the middle of serious legal implications once you start selling these products. Be careful to stay away from such products.
The following checklist can help you choose the right product.
Is the product safe for use?

Would you use the product?

Is the product priced right?

Are the claims based on research or are they just empty ones to lure customers in?
Study more about the MLM company  from your recruiter
Once you have shortlisted the company, you will meet a recruiter or sponsor . during the meeting , be skeptical and question him thoroughly on the company, products, compensation plan and another thing you have in mind. He is bound to answer your questions. Do not fall for the lucrative and naive promises that he makes on how much money you can earn and dream vacations that the company would sponsor. See how much open he is with you. The more transparent the sponsor is, more will be the fairness of the system.
You can prepare a list of questions you would like to ask in the meeting and question the sponsor. If you feel the answers are not clear, ask for clarifications. Ask him what the company expects from a consultant like you and how many people you will have to recruit. Ask about the training programmes and the induction classes the company and the sponsor will provide.
Go through the contract carefully
Do not sign anything in haste. Read the entire contract and understand it thoroughly before you make the next move. You can even seek professional help by consulting a lawyer and chartered accountant to make sure that you are getting a fair deal and the company is a genuine one.
Some companies pose as MLM  while they are illegitimate pyramid schemes. These companies recruit people to buy into a company and the recruit will incur great losses.
You should keep the following pointers in mind before signing a contract.
Does the company make more money by selling products to the distributors than to the public.

Does the company makes more money by recruiting members than by selling products.

If you feel something is not right, don't sign the contract.
When you have the right company and an enthusiastic sponsor under your belt, draw out a plan for building and expanding your business. It helps to have this plan figured out early, before you start on anything major. To be successful in Network Marketing you need MLM Compensation plan.
Know more about MLM Compensation Plan
Always keep the following things in mind when devising  a business plan:
What are the products or services you are intending to sell?

Who is your target  market?

How much time will you allocate for this business?  Will it be a part-time career option or are you planning on working full time?

What is your goal behind joining MLM? Do you want to make a bit of cash or get real rich during your career?

Where do you find yourselves in 5 years?

What will be your marketing strategy? Online marketing? Telephone marketing? Door to door selling?

You can update the plan from time to time but it is really beneficial to have a rough sketch of the plan when you are starting out.
Start your business
It is very common that in most MLM models, person who recruited you becomes your mentor. He will coach you through the early stages of your work and help you get sales in the initial stages. Usually, the more sales you get, the more money your mentor makes. So, he will be there for you and help you establish yourself in the business.  
The perfect mentor must fulfill the following criteria.
Someone who is always  available for you if you need their help.

Someone who you could see yourself working with and build a team under him.

Someone who will be honest with you.
Study your products and know them well.
Your job is to sell the products and it is your responsibility to know everything about the products. You should know how to pitch the products to your customers and plan on doing so. You should also learn how to answer all the questions,clear their doubts and do all the relevant research and studies to support the products and bag the sales.
Buy the right MLM software
Buying the right MLM software will ensure that your management of the business and network is very easy. The software has multiple features to improve the functioning of the business very effectively.
Know more about MLM software and software buying tips from here.
Attend company meetings and training calls.
Attending the meetings and training sessions will help to make new contacts and learn new skills. You can hone your skills and prepare to build the business in a successful manner.
Leads are your shot to a successful MLM career. They are your potential customers. You have to find ways of generating new leads if you want to make money in the business. A good Lead generation Software can help you there.
Follow up with all leads. 
Once you have generated the leads, you have to follow up with them regularly and turn them into customers. A Customer Relationship manager can help you there.
Build your business
Recruit new members to your MLM network
Remember how you were recruited to the network. Similarly, you have to recruit other members to your team if you want to be successful and expand your business. Keep your eyes open ( well, figuratively!) and be on the lookout for new prospects who you feel will be a valuable addition to your team and take it forward. The prospect should be someone who is personable, good at sales and a team player who is committed to the upliftment of the team.
Mentor and guide  your recruits effectively.
The more enthusiastic your recruits are in getting sales, the more money you will make. In Order to help them get more sales, you should train them effectively and guide them to the right path. This may take much of your time, sometimes even weeks and months. You should always understand that it is team building and you should ensure that your recruits are competent enough to start their business on their own and earn you good \money.
Give your team members good commissions.
You will earn their good will and improve their passion by ensuring that they have a good income. They have more reasons to be part of your network and contribute to your team. By compensating them better, you are giving them reasons to be around for longer. This will benefit you since you would have to keep talented sellers around for growing your business.
Consult professionals about your business.
Your business is your sweat and blood and you are responsible for everything and anything associated with running a business. You should take care of the taxes and the laws and other legal implications. It helps to have an accountant and lawyer on hand to help you manage your business very easily and effectively.
Conclusion
You can ensure your success in starting a MLM business and being successful at it if your follow these guidelines to the core. An MLM software is the most important aspect of the MLM business. If you want to get a feature filled MLM software at the most competitive prices, contact Secure MLM today!