Scentsy – Is it a real opportunity for MLM lovers?
Let's see the Scentsy Review.
Scentsy – An Overview
Industry: Multi-Level Marketing
Founders: Orville and Heidi Thompson
HQ: Meridian, Idaho (USA)
Products: Fragrance Products
Scentsy is a US-based manufacturer of fragrances that was founded in the year 2004 by Orville and Heidi Thompson. Its main headquarters is in Meridian, Idaho. By following network marketing, the company sells its products.
In International multi-level marketing system of Scentsy, they have more than 1,00,000 consultants 
The revenue of Scentsy reached $456 Million as per the statistical survey collected from various sources. In the 2017 DSN Global 100 list, it was ranked 42.
Scentsy offers opportunities to aspiring entrepreneurs to initiate the business without a very huge investment.
Let's now have a look at the main products of the Scentsy.
Using an MLM software for managing always gives a boost for your MLM business!
Scentsy Review – The Products
One of the major products of the Scentsy is Warmers and wax. 
It is actually plugged in a warmer with wax cubes inside. Once the Warmer starts melting the wax, it will spread the fragrance all over the room.
There are a variety of over 80 different wax cubes from which we can choose. They function with low watt power of light bulb or low watt power of the heating element.  
Room Sprays are yet another famous product of Scentsy. They have a range of 92 different varieties of sprays and they spray with a good fragrance.
Some of their other products include Fresheners, buddy, Laundry and Soap and Sanitizers.
The products are really good! It all works great and smells very nice…
But does it provide a good business opportunity?
Let's have a look now!
Compensation Plan
The startup kit for Scentsy starts at $99.
After the first three months onwards, you will have to start paying for your distributor website too. And it's about $10 per month.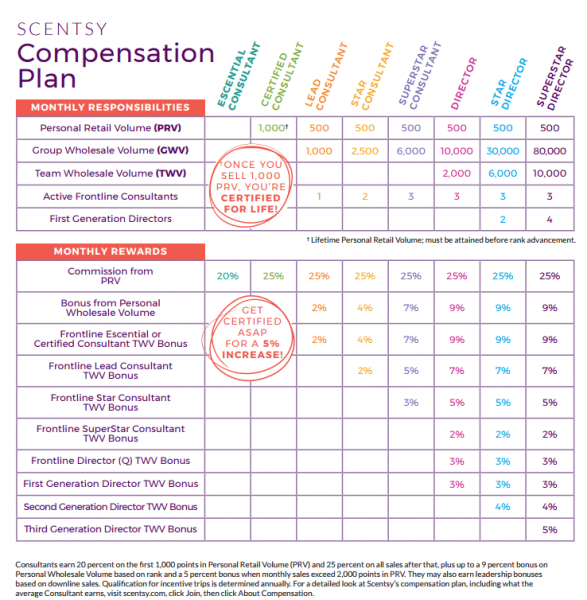 Retail profit is 20%, which is a little below average, but it bumps up to 25% once you've sold 1,000 PRV(Personal Retail Volume).

For each Active Frontline Consultants you recruit, a Group wholesale volume commission of 2% will be provided and an additional 2% as a bonus.

As your rank gets increases you get higher team commission rates.
For a more detailed understanding of the compensation plan, watch the video link given below:
The compensation plan is not so promising compared to the ones offered by the other MLM companies. And it's very much clear that the company is very product-driven.
Try a Free MLM Software Demo to understand distinctly the importance of MLM Software in MLM business
Conclusion
Scentsy too has the income opportunity just like any other MLM company. If you are new to MLM, only after a long and efficient effort you will be able to see the returns.  
By having home get-togethers or Scent parties they share their opportunities and it is not a great opportunity in terms of income, even though their products are of high quality!
Finally, from the review of Scentsy, we can conclude that it is not easy to make money with Scentsy.
Most of the MLM companies deal with products related to beauty, wellness, healthcare, and weight loss. Only a few companies render services in the MLM sector. One such company is Primerica which mainly provides insurance and other financial services. To know more about the company read a detailed Review of Primerica.