One thing that truly baffles MLM entrepreneurs is choosing the right matrix MLM software. Given the multifaceted nature of network marketing and the tedious, yet essential processes involved, an MLM software is a must for network marketing.
Likewise implementing a powerful compensation plan is also a headache, so people mostly stick to the simplest plan – the Matrix MLM plan. Here again, the need for a matrix MLM software of good caliber becomes evident. So, it becomes essential to pick a robust MLM software that supports matrix MLM compensation plans. But how to do that?
Here's a complete guide that will teach you step-by-step the entire process of choosing the right matrix MLM software.
Matrix MLM Plan – Quick Overview
Before we dive into the selection process, it's prudent to get our basics clear of the Matrix MLM plan. It's a popular, widely used, and easily implemented MLM compensation plan that resembles a matrix-like network structure.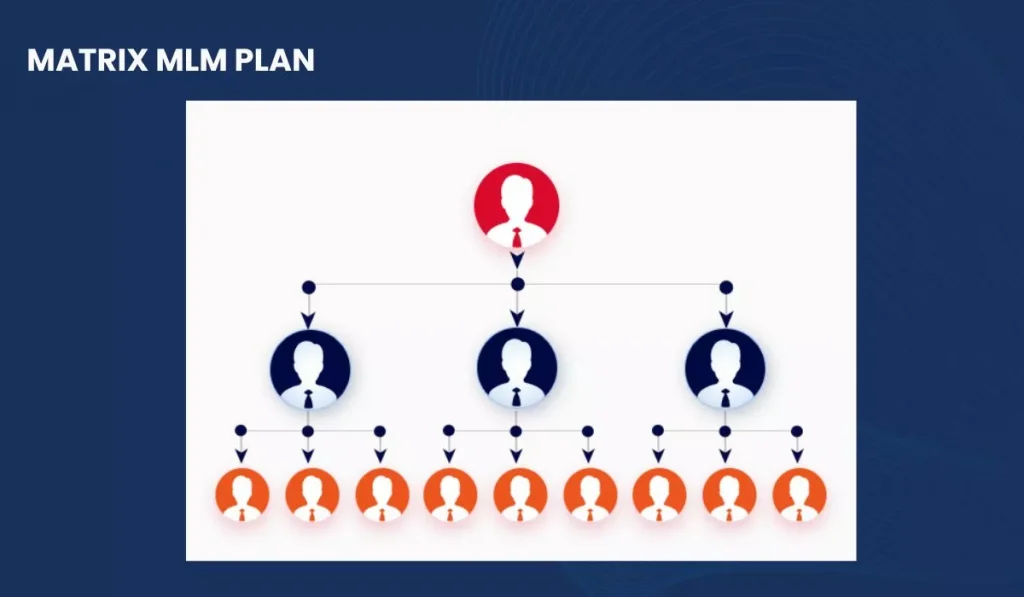 Its key characteristics are the fixed width and depth of the network. It means there can only be a fixed number of people in the frontline as well as the downline.
For example, a 3×5 matrix plan can only have three members in the front line and the downline can only go five deep. That's how the matrix MLM plan works.
The Fours Step Process for Choosing the Right Matrix MLM Software
The matrix MLM software is a dime for a dozen which makes it challenging to pick software that fits every need of an individual business. To overcome this issue, you need to know the process of picking the right matrix MLM software. Here's a four-step plan that will guide you in picking the best MLM software;
Step 1 – Define Your Goals
Every business begins with goal setting, so it's a no-brainer that you start with this step. However, this step is critical, so don't take it lightly. You must be clear about your business objective and specific needs.
Here are some factors you must consider;
Target Market – Be clear about which marketing you will target.
Size of your network – Evaluate the strength of the network and determine its expansion rate.
Target Audience – Research thoroughly the demographics you will target. It will help tailor your offer accordingly.
Expected growth target – Keep in view the growth target. It will help you mobilize resources on a need basis.
Unique features you might need – It's possible you require specific features to cater to a unique MLM business plan. It will be prudent to have a list ready of the features you need for the matrix MLM software.
Step 2 – Thoroughly Research and Compare Matrix MLM Software Vendors
Defining objectives and goals gives you a path to follow. So, the next step is to get into the research mode and compare different MLM software vendors based on the criteria you set in step one.
Here's how you should do it;
Compile a list of MLM Software Vendors – Create a list of Matrix MLM software providers. You can do this by researching online, asking peers, or sifting through MLM forums.
Evaluate Features – Thoroughly scan the features provided by each software vendor. Look for key capabilities like compensation calculations, support, etc. Narrow down the list based on the specific criteria you defined in step one.
Do Cost Analysis – Budget consideration is a critical step in picking an MLM software. Analyze the cost of each software, and shortlist those that offer the best value for money.
Analyze Compliance and Security Measures – After cost analysis, it's time to explore the compliance and security framework of your shortlisted MLM software. It's imperative to ensure that the MLM software adheres to all the security and legal compliances.
Step 3 – Contact Vendors and Request a Demo or a Free Trial
By now your list will be down to three or four software long. It's time to contact each vendor and request a demo. It's a critical step because MLM software might look good on paper but fail to perform in real-life scenarios.
Here's how you should proceed;
Ask Questions – Prepare a comprehensive list of questions regarding customization, scalability, support, maintenance, etc.
Test Software's Usability – Minutely evaluate the interface and see if you and your team can easily navigate it or not.
Look for Customization Options – Customization is key to the successful implementation of Matrix MLM software. Therefore, ensure that the MLM software can be molded to your unique compensation structure or business model.
Step 4 – Gather Feedback and Pick a Software
For the final step, go for feedback and case studies. Follow these pointers;
References – Directly ask software providers for references and case studies.
Scan Feedback – Contact previous users or search on the internet for feedback and see if they are positive or not.
Pick a Software – Finally, choose a software that perfectly fits all the above criteria.
Winding Up
We can't emphasize enough how critical the selection of the right Matrix MLM software is for a successful network marketing business.
So, be patient and analyze thoroughly when choosing an MLM software.
Remember, your choice will determine your future in MLM, so tread carefully. Just follow the steps mentioned here and you will be good to go. Good luck.