Affiliate marketing or MLM business is growing exponentially, making people from all walks of life turn towards this lucrative industry. Network marketing has shown consistent growth over the past few years, and even a global pandemic couldn't slow it down. Modern-day tools like MLM software have further propelled the growth of the industry.
Though it is a profitable business, you need to invest your time to go through the complex commission calculations, payout management, and many intricate processes. MLM software can automate all of these and make your work simple. Here we will take a look at some of the top MLM software companies.
Want to start your own MLM Business? Checkout our complete guide on How to start your own MLM Business? .
The Top MLM Software companies in 2022 are:
1. Secure MLM Software
Secure MLM Software is a direct selling system with features and integrations that make operating multilevel marketing network easier. It is one of the best MLM software companies in the market today. Experts with over a decade of experience in the network marketing sector make up the team. This tool was created to be a comprehensive solution for MLM businesses of all sizes. Mobile apps for Android and iOS platforms are also available from Secure MLM Software.
It has a ticketing system to support its massive customer base. With over a decade of experience in the industry, this service provider has launched many MLM companies and fulfilled the requirements of hundreds of clients
Who are the leading giants in MLM business today ? Have a glance at the Top Network Marketing Companies in the world in 2022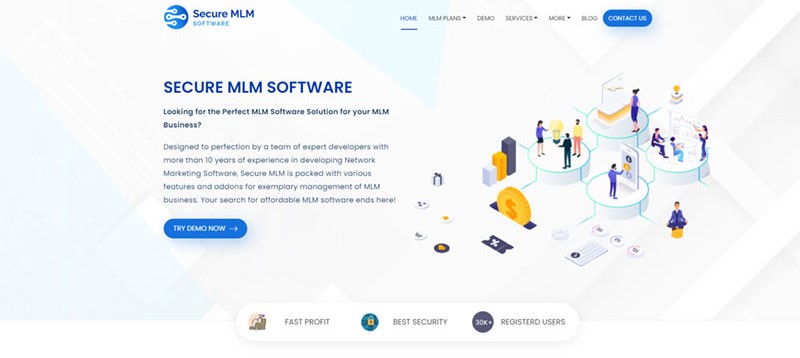 Features:
Genealogy Tree
Multi-currency and Multi-Language Support.
Multiple Commission modules
SMS Integrations
E-Commerce Integration
Multiple Payment Options
Lead Capture Pages
2. Infinite MLM Software
Infinite MLM software is one of the topmost MLM software which provides all options to perfectly manage, organize and control the huge network of people associated with MLM business. It is a very good option if you are planning to build your online network marketing business or to enhance your existing online business as it can be easily integrated with Opencart and Magento. Many popular MLM companies from all around the world use this software to power their operations.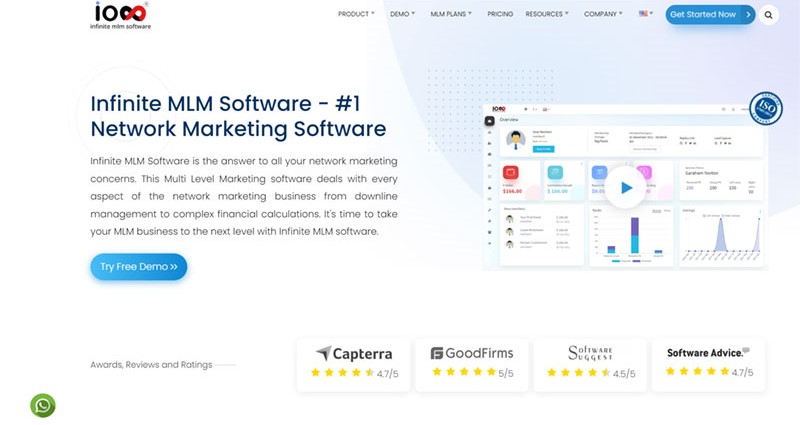 Features:
Multi-Language
Website Replication
User-Friendly Dashboard
Fully Responsive
Multiple Payout
Whatsapp Integration
3. Market Power Pro
MarketPowerPRO is an MLM software suited for all types of network marketing companies offering the latest compensation plans, rewards, and advanced features. Users can easily market their products using its e-commerce store and integrate with social media platforms and mobile phones. The software comes with a real-time back office which makes managing customers and sales a lot easier.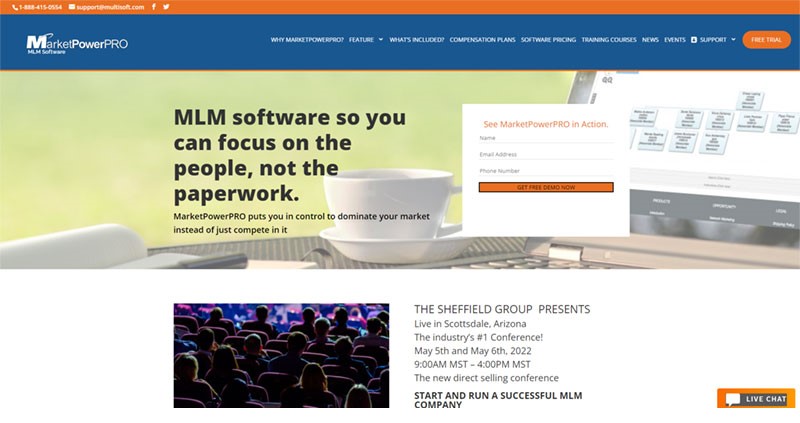 Features:
Inventory Management
Lead Management
Multi-Country
Online Payments
Prospecting Tools
Sales Reports
4. ARM MLM
ARM MLM software offers top-level security and customization options, for network marketing companies. Administrators can get real-time updates through the ARM MLM app allowing them to always keep an eye on the network. The software supports all the popular compensation plans according to user requirements and provides competent lead generation and promotional tools.
What are the competent MLM lead generation ideas in 2022? Check out Top Network Marketing Lead Generation Ideas In 2022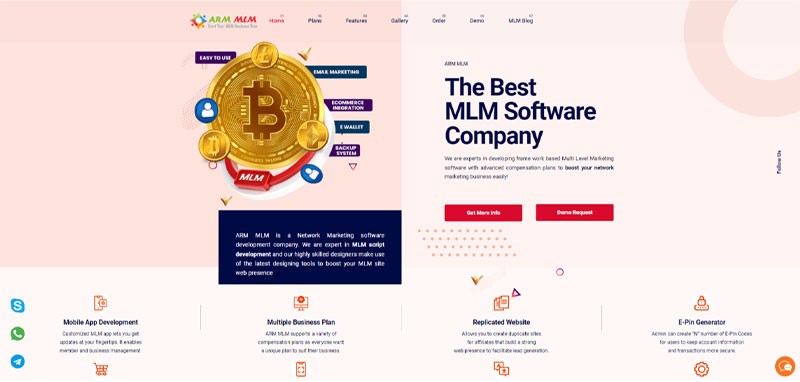 Features:
SEO Optimization
1 Click installation
5-star support
Fully responsive
Multilingual software
5. Pro MLM
Pro MLM is a cloud-based system that allows companies to effectively manage network marketing processes supporting a variety of compensation plans, e-wallets, and other features. Administrators can use it to manage user profiles, create matrix plans, identify members' positions using visual genealogical charts, and keep track of all actions from a single dashboard.
Which MLM Compensation plan benefits your MLM Business the most ? Have a look at the comparison between the Unilevel and Binary MLM Compensation Plan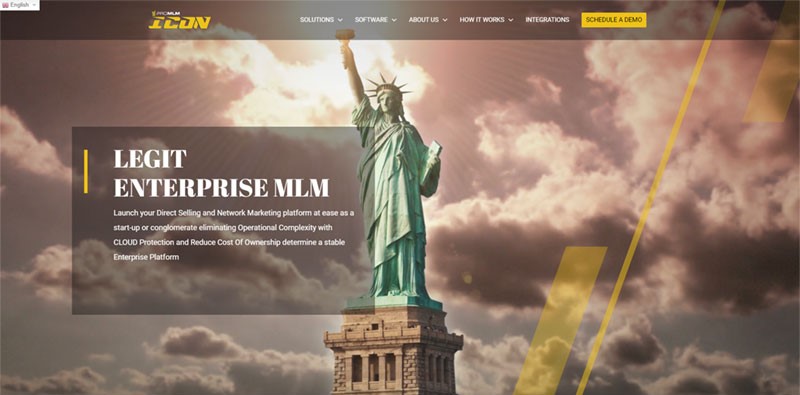 Features:
BI analytics
Coaching module
Replicated site
API integration
Social media engine
6. Trinity MLM Firestorm
Firestorm MLM software is a robust solution for MLM companies looking for scalable software solutions. Created by experienced developers from the Trinity group, the MLM software showcases excellency in its performance, features, and design. Its features include self-replicating websites, a user-friendly interface, genealogy tree option, commission & distributor management, reports & analytics, E-commerce integration, SMS integration, an integrated ticketing system, and more.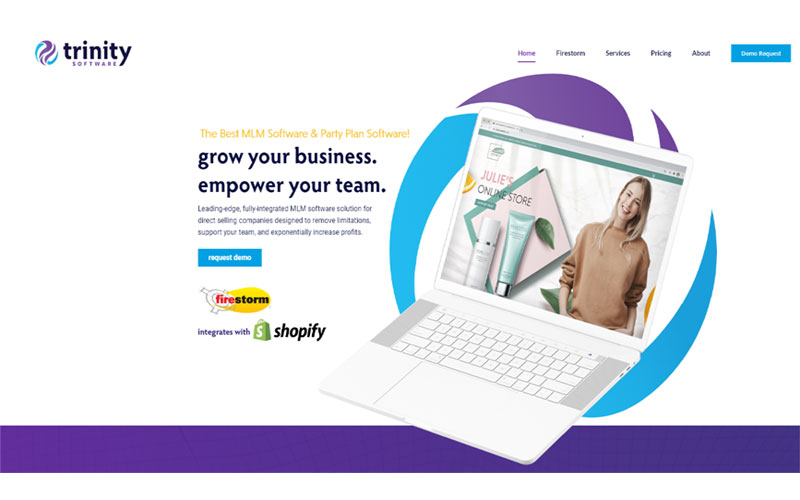 Features:
Party Management
Full E-Commerce
Back office Flexibility
Online Enrollment tools
7. S4DS Software
S4DS is a cloud-based multichannel ready-to-use software solution that can help any network marketing organization improve its sales processes. A sophisticated rule engine allows the platform to be customized extensively. Its multi-currency, multi-language, and multi-country functionalities allow businesses to expand globally. Tools for managing the sales staff, distributors, and independent sellers are included in the product.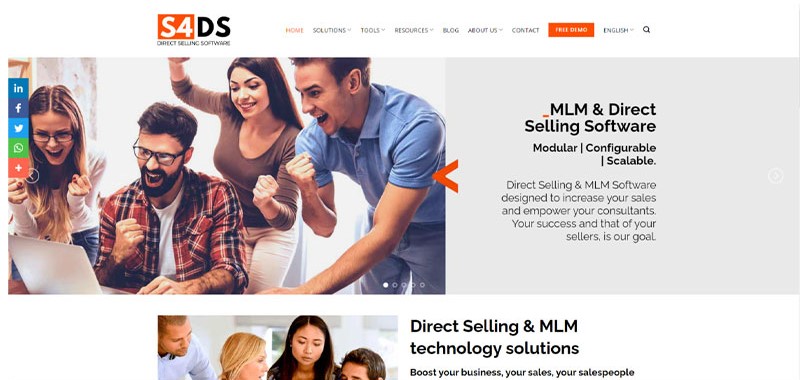 Features:
Auto-Dialing
Order Management
Performance Management
Lead Capture
Sales Reports
8. Omega MLM Software
Global MLM Software is a global pioneer in the development of network marketing software. Their team of MLM experts can use direct selling tools to assist network marketing organizations to transform their businesses. Under one roof, the company provides both basic and industry-specific functionalities for MLM companies of all sizes. Their solutions allow you to get your business up and running quickly and easily.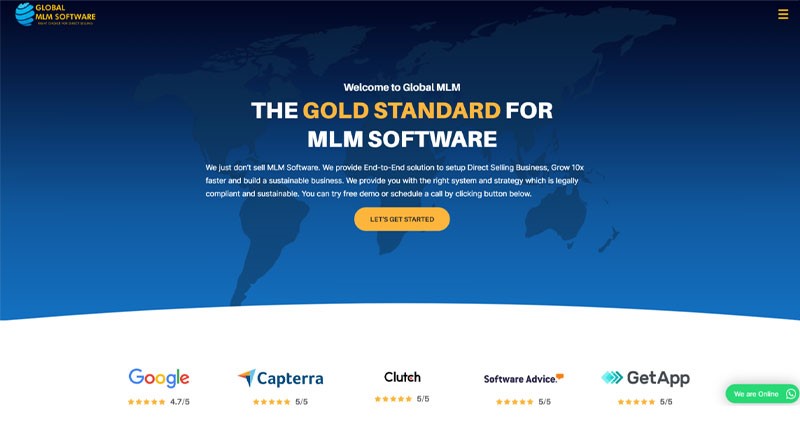 Features:
Replicated websites
CRM
Multi-lingual
Multiple payment gateways
eCommerce integration
9. Ventaforce
Ventaforce is a dynamic, powerful, and user-friendly MLM software that ensures a smooth experience for all its users. The product is designed by a team of MLM experts, developers, and designers, who have carefully integrated all the latest features to give network marketing companies everything they are looking for in a best MLM software.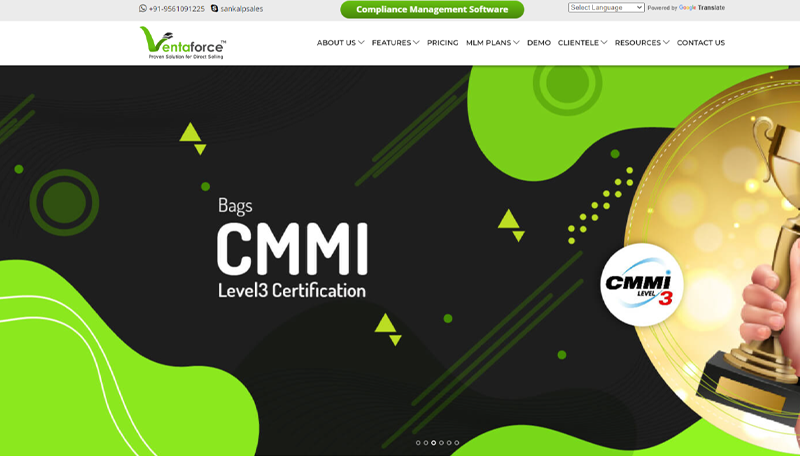 Features:
Whatsapp integration
Multilingual interface
Tax management
Mobile application
Replicated website
Email and SMS notifications
10. WP MLM Software
If you are looking for a perfect MLM plugin, then WP MLM software plugin serves the purpose. This MLM plugin allows you to run your MLM business successfully with your WordPress website. It is one of the topmost open-source MLM software which suits various MLM plans and e-commerce integrations like Magento and Woo commerce integration.
You can also track various MLM functions with the unique features of WP MLM software and run your affiliate business successfully with the user-friendly interface of the WP MLM software plugin.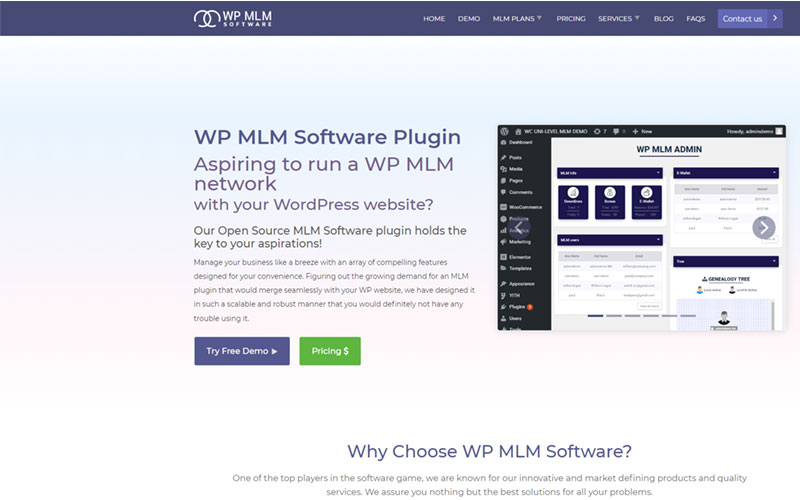 Features:
Simple dashboard
MLM user profile management
Genealogy tree representation
E-Wallet management
Effective Reporting
Conclusion
Choosing the best MLM software is not an easy task as you need to look at all the features and the support rendered by service providers. Here, we have listed out some of the top MLM software companies considering all the aspects of the software. Select the one that can boost your MLM revenue and ease business operations.