The Unilevel MLM business is only as good as the software that powers it. Yes, it's true – without top-tier Unilevel MLM Software, the network marketing business won't survive long.
The reason is the range of processes that need to be precisely calibrated to keep the MLM business running. However, there's no one-size-fits-all software in MLM – it has to be tailored to the unique business requirements. That's why customization is the most sought-after feature of any high-quality MLM software.
In this comprehensive guide, we will delve into the mechanics of customizing Unilevel MLM Software. We will explore the necessary steps needed to correctly customize the software and make it perfect for the network marketing business. Let's dive in!
The Unilevel MLM Structure – Brief Overview
Customization begins with a thorough understanding of the MLM plan you are going to adopt. Everything else will be tailored as per the MLM plan you adopt. Let's see how the Unilevel MLM structure looks to give you a quick overview.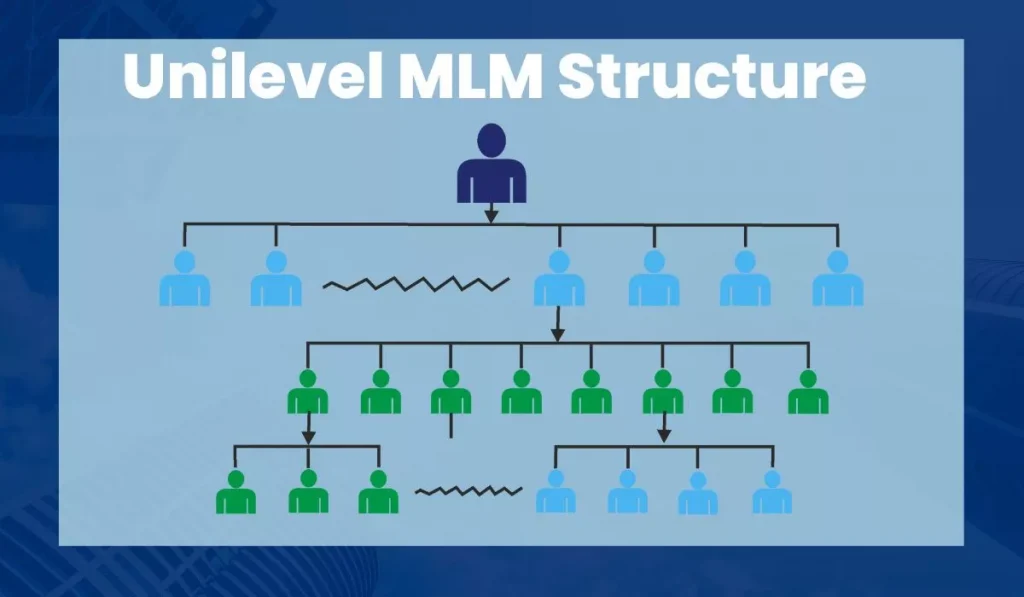 The Unilevel MLM plan is one the simplest ones and it works like this; On the top sits the sponsor, let's say A. Now if it recruits 3 people, they will go to its immediate front line, forming a single level.
Moreover, the Unilevel MLM plan doesn't limit the width of the frontline, meaning sponsors can add as many members as they can on a single level. That's pretty much everything the Unilevel MLM structure looks like.
Customizing The Unilevel MLM Software – The Four-Step Plan
We are down to actual business – customizing the Unilevel MLM Software. Here's a four-step plan you must follow to achieve the level of customization required to run your Unilevel MLM business;
Step 1 – Through Assessment Of Your Needs
Before you get into the technical stuff, you have to get your ducks in the row first. I mean, you must know the actual requirements of your Unilevel MLM business.
It could be boosting sales, enhancing user experience, simplifying operations, etc. Treat this step as a roadmap that will guide where you want to take your MLM business.
When you have your requirements ready, think about the features you will need to fulfill them. Every MLM business differs, so think carefully about what will set you apart. You can explore the ongoing trends or spy on competitors to get ideas.
Step 2 – Search For a Suitable MLM Software
So, you have done the assessment and have a pretty clear idea of what you want in the Unilevel MLM Software. It's time to put the research helmet on and start checking out the available software options.
MLM software comes in all shapes and sizes, so you won't be short of options; what you must check out though, is the level of customization a particular software allows. After all, MLM software won't be any good for tweaking if it doesn't allow customization. Right!
Ask for quotes from multiple vendors and drill them down for the features they provide and the customization they allow. Consider the price too and evaluate them based on the features and functionality each MLM software provides.
Step 3 – Begin The Customization Process
You have your list of requirements and you have picked an MLM software that promises to meet all your requirements. It's time to put a stamp on your Unilevel MLM software; remember, you will be shaping the software's functionality, so tread carefully.
Start by hiring a professional MLM software developer. Next, explain the tiniest details of your customization goals to the developer.
Lastly, discuss the features (e-wallet, payments, inventory management, analytics, etc. ) and integrations needed in the MLM software – details are critical here, so lay out everything. If you proceed this way the end result will be the MLM software that's tailor-made specifically for your Unilevel MLM business.
Step 4 – Testing, Integration and Launch
You have your MLM software ready but don't jump straight to getting it online. Firstly, thoroughly test the software to identify any bugs and if there are any, fix them. Take help from the developer to foresee this step.
Likewise, train your team about the new system so that it can use the software effectively. Remember, you can only extract all the benefits of a customized Unilevel MLM Software when you and your team can effectively handle it. It can only happen when you train your team thoroughly about the workings of the software.
Finally, integrate the software with the existing system and monitor the performance to ensure everything works perfectly.
Final Thoughts
Unilevel MLM software comes in many flavors but not all align perfectly with business requirements.
Therefore, customization becomes essential to achieve the level of functionality needed per the business goals. We have described a four-step step that enables you to precisely customize Unilevel MLM Software so that it works in sync with your network marketing business.
Remember, thoughtful customization is key to an efficient MLM system, so handle it with utmost care. If you do that, you're all set for a successful run in MLM business.